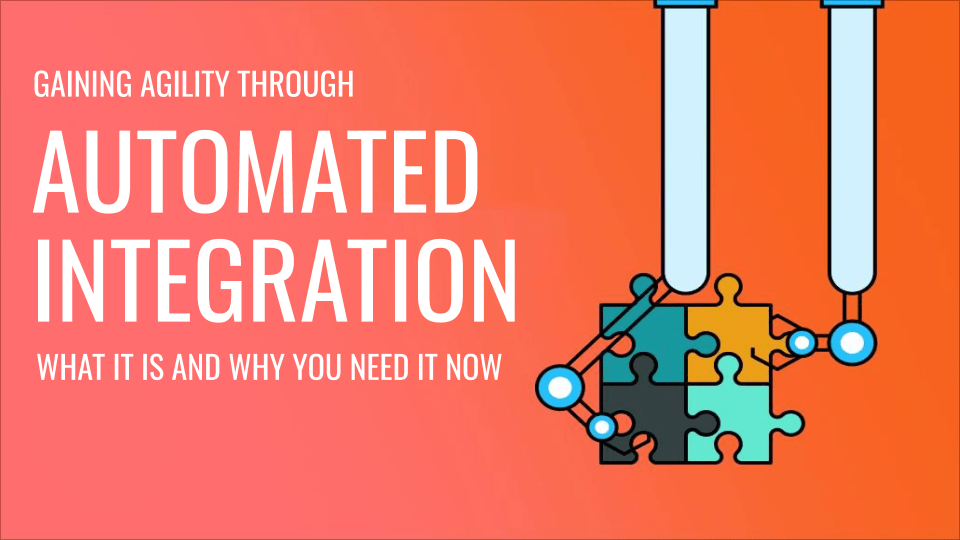 Gaining Agility Through Automated Integration: What It Is And Why You Need It Now
As business technology continues to evolve, companies today are faced with many challenges. They've got solutions to their most pressing pain points at their fingertips and massive amounts of data to help them make better business decisions. In the enterprise, most critical systems are connected, providing a consolidated and real-time view of operations and enabling agility from end-to-end.
However, even considering these quantum leaps, there are still blind spots. Data volumes continue to increase, and some sources are inaccessible as they are siloed in disparate CRM, supply chain management (SCM) solutions, and ERP software
In the effort to achieve and maintain agility, there is an emerging need for software integration solutions—solutions that will connect, synchronize, and analyze all company data, automate business processes, and drive superior ROI in the process. Today, we're going to talk about automated integration solutions (iPaaS) and how they outperform the methods we have used in the past.
In the not-so-distant past, data integration was quite a bit simpler. It involved collecting data from various sources, adjusting its structure, and sending it to the target system. To connect legacy systems with ERPs, for example, companies often use a custom-coded system for integration. Unfortunately, this is an unsustainable process.
Integrations between support ticket applications, CMS, marketing, human resources, and inventory systems, for example, were developed to solve the problems of the few rather than looking at the bigger picture.
In recent years, we've seen widespread IoT deployments and the need for a fully integrated mobile platform to satisfy omnichannel postures throughout the organization and supply chain. It is all part of modernization and digital transformation.
But traditional on-premise systems do not play well or integrate with new cloud apps. Integrations must be coded manually, which is time-consuming and costly, and challenging to manage because it is not reusable.
Traditional software integration tools are lagging because our needs—and our technology—is different.
Why Traditional Integration Fails
Let's deep-dive into traditional integration approaches to see why they no longer hold up:
You Can't Reuse the Code
Custom coding isn't just expensive and time-consuming, it is largely unsustainable, mainly because you can't recycle the code. Rewriting code will have you continuously behind the eight-ball, repeating the same process over and over. Additionally, during the lag, your business won't have the benefit of that data because it won't be connected to anything.
High-Maintenance
Maintaining your code requires constant oversight to ensure it is working as it should. Scale is impossible in this scenario; therefore, the business has zero flexibility in managing changes as needs arise.
No Standardization
Custom code is unique to the coder, making it difficult to collaborate or pass on to your development team and making it necessary for DevOps to be involved every time there is a new demand. Time to completion is longer; delivery is delayed, decision making suffers.
Lack of Talent Resources
It requires a particular skillset to manage complicated manual integrations, especially when dealing with legacy workflows and infrastructure. This kind of expertise is hard to come by, and if you lose that person, whether it's an employee retiring or a consultant that doesn't have time for you, you're stuck until you find a solution.
Data Security and Compliance
Ensuring data security compliance is challenging at the best of times, but manual systems present an even greater concern. Each time a new data source is added, you must ensure that your system complies with each regulation, a situation that is much more easily and intuitively addressed by iPaaS. Ultimately, you must choose a platform that delivers the level of compliance and security you need without becoming an unnecessary burden.
ESBs Are Not Cost-Effective
An enterprise service bus (ESB) requires a high level of proficiency and experience, but establishing the connections is never the end of it. The costs and complexities will continue to mount in the effort to maintain system architecture, implement changes, or upgrade systems.
ESBs Do Not Support Cloud Integrations
These days, the world's most important business software is cloud-based. Your platform must support a wide range of applications, including on-premise, cloud, and hybrid iterations. ESBs are not cloud-friendly, and they are not scalable; thus, it is not a viable approach to business growth. In fact, it can prevent your business from reaching its full potential, simply because you can't keep up with the competition.
Does Not Support Agile Development
Traditional systems require extended design and development time, and many things can occur during the process that alters the direction of the work. Changes have an impact on the timing of the final release and create additional costs and complexities.
Not Built for Innovation
Present-day expectations in service delivery are forcing companies to adapt rapidly. Innovation is critical if you want to stay on top, and systems that rely on ESBs will always lag behind. ESBs were not exactly built for speed, technical agility, or meant to support the speed and accuracy we need to move ahead. They were developed and introduced before mobile, social media, IoT, and the cloud, so these concepts were never considered or planned for.
Why Today's Organizations Need Automated Integration
Businesses that continue to hold onto manual integration workflows will be unable to achieve an agile posture. Lacking the right integration tools, it will become impossible to access and govern data flow, and business processes will never be as efficient as they could be. Quite simply, if agility is a business goal in the enterprise, as it should be, automated integration is the vehicle that will get them there. Here are some of the benefits companies will enjoy after adopting automated integration.
Reasons Your Company Should Automate Its Software Integration
Solving the Integration Dilemma with iPaaS
iPaaS, also known as Integrated Platform as a Service, is the answer to many of the problems ESB-dependent enterprises face today. It is a cloud-based platform that makes it easier, faster, and less expensive for companies to embrace agility and experience scale that would not otherwise be possible.
iPaaS supports IT enterprises in their efforts to develop, deploy, and govern their data and systems, and it also allows them to integrate systems and software into a more streamlined package. To process the vast volumes of data we produce from all of our vital systems, iPaaS is the only viable solution
Why is iPaaS is Essential in An Agile World
Simple Processes. iPaaS offers a simplified and more direct approach to multi-point integration, so simple it supports rapid scale and endless possibilities for connecting to new software and databases.
No Manual Coding Necessary. To answer today's competitive demands, iPaaS helps your teams respond much faster to business needs. The code is standardized, simplifying the process, costs are reduced, and projects are delivered faster.
Realize The True Value of Your Applications. Organizations gain full control of their applications, maximizing IT investment.
Simplified APIs. API development and management within the iPaaS is easier to accomplish and infinitely scalable, offering drag-and-drop functionality and a centralized single-pane-of-glass view of all connections. Repetitive tasks can be automated and are easily reconfigured and monitored as needed.
Low Latency. Hybrid systems require a complex architecture to handle multiple workflows. Changes within this environment can result in latency issues, but the iPaaS platform minimizes this concern, making it the ideal choice for IoT, cloud, and mobile implementations.
Integrates Seamlessly with Virtualized Infrastructure. iPaaS works perfectly with locally-hosted virtual platforms like Azure, Salesforce, AWS, and Google Cloud.
Next-Generation Compliance and Security. iPaaS allows you to monitor your systems in real-time, providing vital data protection, and allowing you to respond to threats in the moment. iPaaS integrations are immediately compliant with international standards, including PCS, HIPAA, and the GDPR.
Amazing User Experience. As iPaaS standardizes most of the steps to creating new integrations, it doesn't require highly specialized IT expertise to create, manage, or make adjustments to iterations. It is easier for others to understand as well and make it simpler to demonstrate value to the executive team.
The needs of today's industry requires agility, rendering many past processes and innovations obsolete. To truly embrace an agile posture, it is essential to integrate your business systems as it removes blind spots, supports barrier-free engagement with your data, and drives efficiencies throughout the organization.
If you would like to learn more about what Japio iPaaS can do for your business, we'd love to show you how we can help.
Reach out today to request a demo.