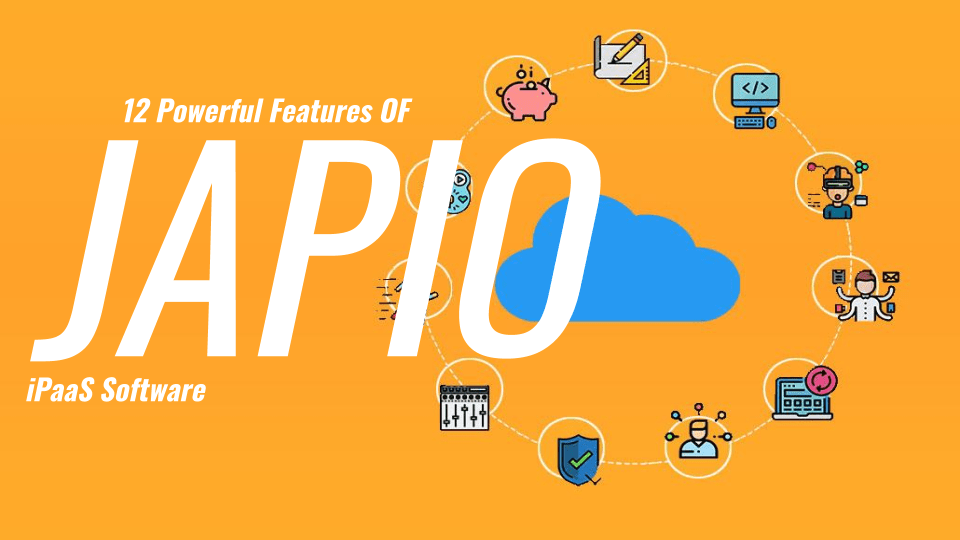 Top Features of iPaaS Software
As business technology continues to evolve at breakneck speed, so do the needs of the enterprise. To accommodate these exciting changes, cloud platforms, SaaS, and PaaS are on the rise. Data is distributed across multitudes of data centers, servers, applications, and databases, which presents an even more significant challenge: how do we integrate this data so that it is more available and better able to work its magic?
Enter iPaaS, also known as Integration Platform as a Service.
iPaaS tools are essential to today's enterprise as they centralize data from all sources, allowing organizations to access, govern, and manage their on-premise and cloud systems as one wholly integrated entity.iPaaS connects all the elements and streamlines integration flows and processes, accelerating development, and simplifying what used to be a cumbersome and costly manual process.
Benefits to the enterprise include performance improvements, simpler IT workflows, faster-to-market deployments, and agility enablement. More traditional ESB workflows are still used for some internal processes, such as internal data updates and transfers, while iPaaS takes on the heavy lifting from the customer-facing side.
iPaaS Software: Key Features to Consider
Just about every type of organization in every industry now requires an integration solution to connect their software and systems. However, getting the right functionality is critical, so some analysis must be done to ensure the best result. Moving forward without putting thought into the matter can be reckless, especially when systems include a legacy environment or a combination of legacy on-premise applications and cloud services.
To ensure your iPaaS investment is well-informed, look for these features and capabilities:
Accelerated Data Transformation
Part of the beauty of iPaaS is that it manages incompatibilities between inputs and outputs and handles the totality of data transformation needs. As an API platform, it enables the user to produce new iterations quickly or simplify existing ones, securing and evaluating all APIs and any associated microservices along the way. Since everything lives on a single platform, the API has access to any data source, no matter where it resides, enabling AI and other key technologies to further automate and accelerate the data mapping and transformation process.
Integration and Connectivity
Perhaps the most exciting and useful feature of the iPaaS platform is its connectors. Connecting disparate systems, regardless of whether they are on-premise or cloud-based, and integrating the totality of data is just the start. Workers can continue to use their tool of choice, but instead of the data their work produces remaining siloed, it now figures into the broader system, supporting collaboration and enabling more timely business decisions. iPaaS works seamlessly and behind-the-scenes, so workflows are maintained, although productivity is much-improved.
API Versioning Made Simple
Versioning and updates in a legacy environment are a complicated matter – not so with iPaaS. In an iPaaS environment, tools are updated to reflect changes to web apps upon detection. This is usually handled automatically and without disruption or any need for intervention. Some iPaaS tools require the user to manage these changes, so it is advisable to map out workflows in advance to allow for this. When using automatic version controls, it is possible to rollback to a previous version or upgrade without losing data.
Remote Monitoring and Notifications
The iPaaS platform can monitor status, performance, run history, and manage connected endpoints, such as an IoT network. It also ensures that data collected from these sources is collected and distributed correctly and that results of integrations are reported. Information collected includes run time of the process, the number of records executed, and any failures or exceptions. Users can view results and history from the interface, and alerts can be configured to notify personnel when updates, installations, or failures occur.
Security Features
Security is a critical function of any software today, and iPaaS is no exception. Protection from evolving threats requires a robust security posture that can handle encryption certification, access control, password protection, session management, endpoint management, and more besides.
Templated Integration Connectors
Many iPaaS solutions offer templated integration connectors to simplify any adjustments that need to be made to configurations, facilitating improved and accelerated workflows. Developers have the ability to access connector source code directly and have the tools at their disposal to accomplish their goals with less effort. iPaaS integration connection tools support a range of programming languages, including Node.js.
Cloning and Customization Tools
Many iPaaS solutions offer the ability to integrate via cloning and customization. Users choose the application they want to clone, define their desired trigger, and customize the workflow with the actions they decide to automate. Automation then completes the tasks based on those pre-determined triggers.
Routing and Orchestration Process
iPaaS offers a highly efficient orchestration engine designed for complex workflows, while the routing feature directs data between applications according to the set configuration. Working through a visual designer, users can create and build integration workflows to suit their needs. In many cases, these workflows have a low coding demand, which accelerates the process and makes it more intuitive. As an integration process, it decouples apps from each other and centralizes the monitoring and handling of integration processes.
Complete API Lifecycle Management
Some of the more advanced iPaaS systems support an improved ability to share and manage data in real-time. Leveraging this feature, organizations can manage all of their APIs from a single pane of glass and facilitate scale as the need arises. From the initial design to API deployment and testing, this capability allows the rapid addition of new functionality as soon as it is required.
Improved Data Visualization Helps Companies Make Better Business Decisions
One of the most vital functions of iPaaS is in making the totality of a company's data immediately accessible. Custom reports can be configured to translate this data into actionable insights, providing stakeholders with easy access to the information they need to inform the way forward. For executive, operational, and technical users, this function is critical, as complete visibility is necessary for business process improvement and market advancement.
Broad Range of Data Formats and Standards
Non-standard data formats have long been a barrier to business process improvement. iPaaS supports universal translation for all integration standards, including industry-specific and web-based standards and data formats.
Simple Drag and Drop Capabilities
Drag and drop functionality enables simplified integration workflows, although these can also be accomplished through clicks. In essence, it is a visual interface that supports user preference regardless of their technical proficiency. By empowering both technical and non-technical users, integrations and automated workflows can be created quickly and easily by almost anyone without the need for coding experience.
The iPaaS space is growing rapidly and fast becoming an essential technology in enterprise environments. That said, if you are considering an iPaaS solution, it is highly recommended that you evaluate your options and understand the capabilities and limitations, both of the platform and your IT teams, before you make your final decision.
If you would like to learn more about Japio iPaaS solution and what it can do for you, reach out to us today
, or schedule a meeting to request a demo.