Google Analytics (Ecommerce overview) Dashboard Template
Template Created  By Japio
Using Japio's Google Analytics (Ecommerce Overview) dashboard template get full insights into Your eCommerce store. Learn about revenue, transactions, conversion rates and more.
What all you can learn from Japio's Google Analytics (Ecommerce overview) Dashboard Template
Connect to Google Analytics account and learn:
Track and analyze e-commerce transaction data, that is, the number of orders placed on your website today, this week, etc. Track daily fluctuations in the number of transactions recorded and compare them with the same day in the previous month.
Real-time view of the revenue generated from website sales this month. Analyze daily trends to ensure that your e-commerce website generates enough revenue to achieve your sales goals.
Track and measure the number of new and returning visitors to your website and the number of unique sessions initiated by these users.
Find out what percentage of your website visits lead to recommendations. This is a good way to evaluate whether your website needs to be optimized to increase conversion rates.
Understand how much revenue your business generates from each visitor who interacts with your e-commerce site over a period of time.
View and Track the average amount each customer spends on each transaction on your e-commerce website.
Find the most popular products based on the number and sales of the month.
Revenue from online transactions or in-app transactions during a specified period. Depending on your implementation, this may include taxes and shipping costs.
The average number of transactions in the specified period (date range).
The percentage of sessions that ended in e-commerce transactions within the specified time period (date range).
The revenue from the sale of a single product during the specified period divided by the product name.
Revenue from e-commerce or in-app transactions during the specified time period, divided by the channel.
The money that is generated when customers visit your website within a certain period of time (date range).
 Users who have logged into at least one session within the specified date range.
The number of purchases made on your website during the specified time period.
The total number of sessions in a given period. A session refers to the amount of time that users are actively interacting with your website, application, and so on.
Get a deeper understanding and additional data by using our integration with google analytics
You can use Japio's Google Analytics integration to track and analyze the following:
Get many more alternative metrics and data by using Google Analytics (Ecommerce overview) Dashboard Template. In Japio, we provide many varieties of dashboard templates.
More 1-Click Dashboard Template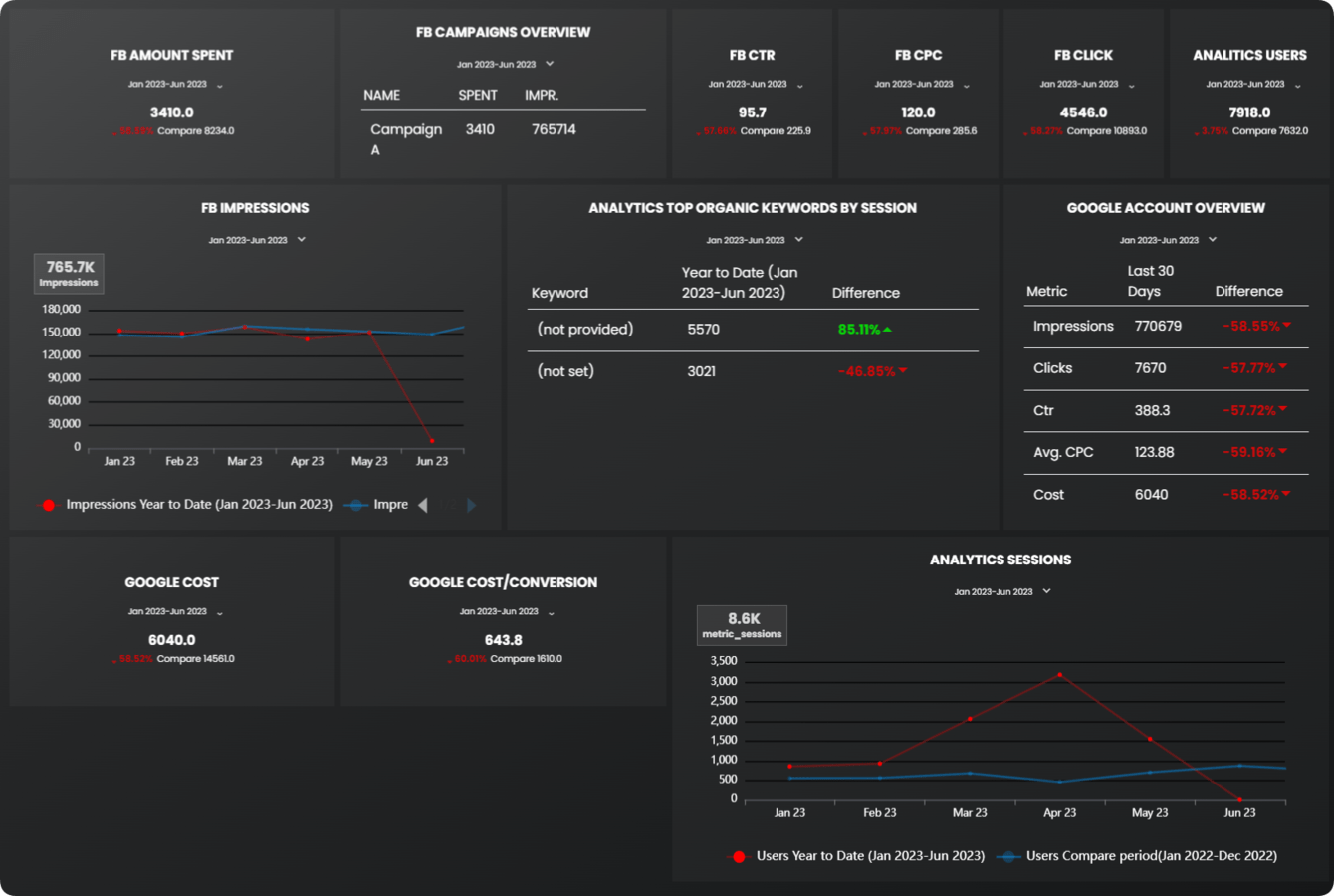 Manage the ROI and the performance of your paid campaigns on a single platform with the Facebook and Google ads paid marketing overview dashboard template.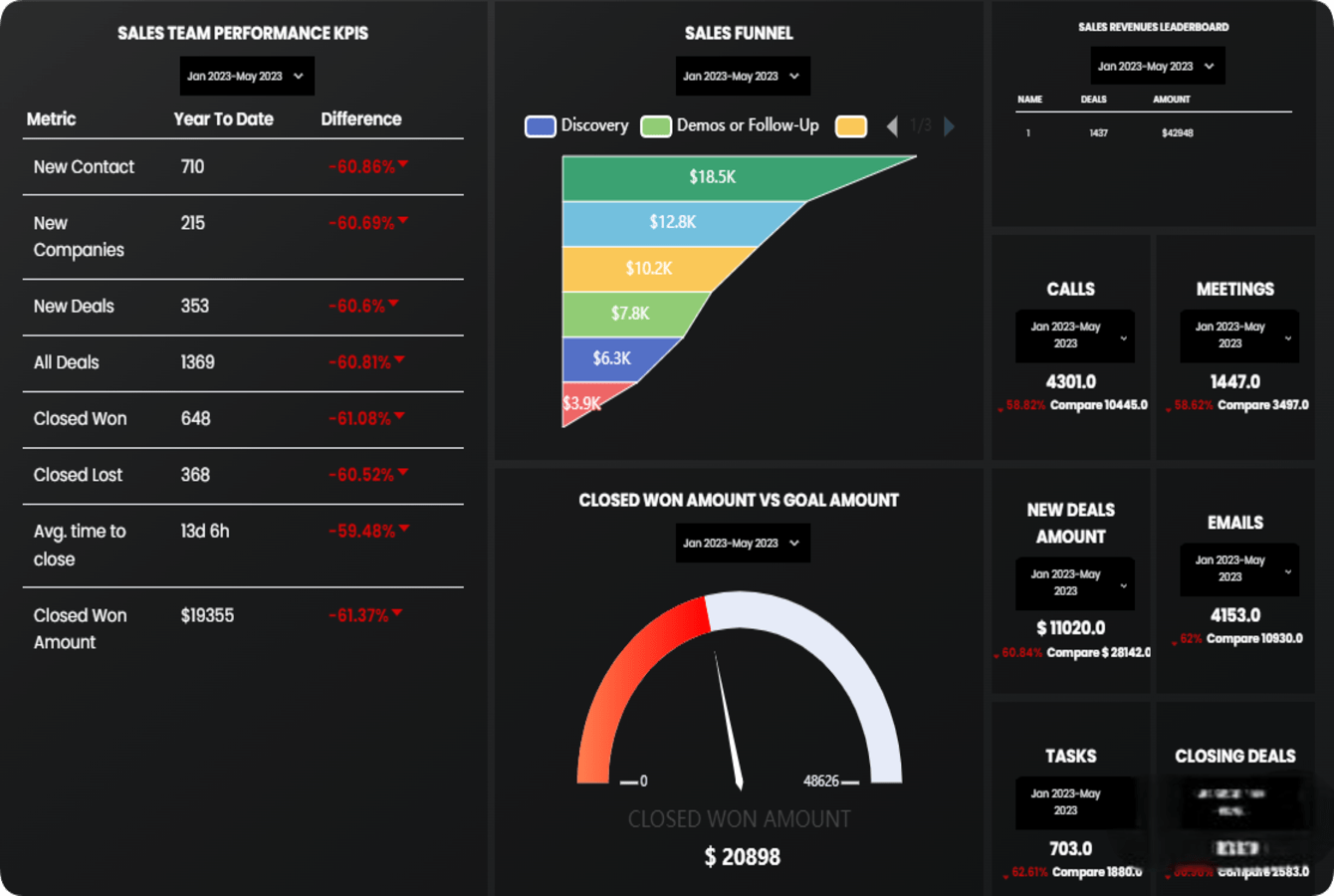 A report with visuals showcasing monthly performance by the sales team.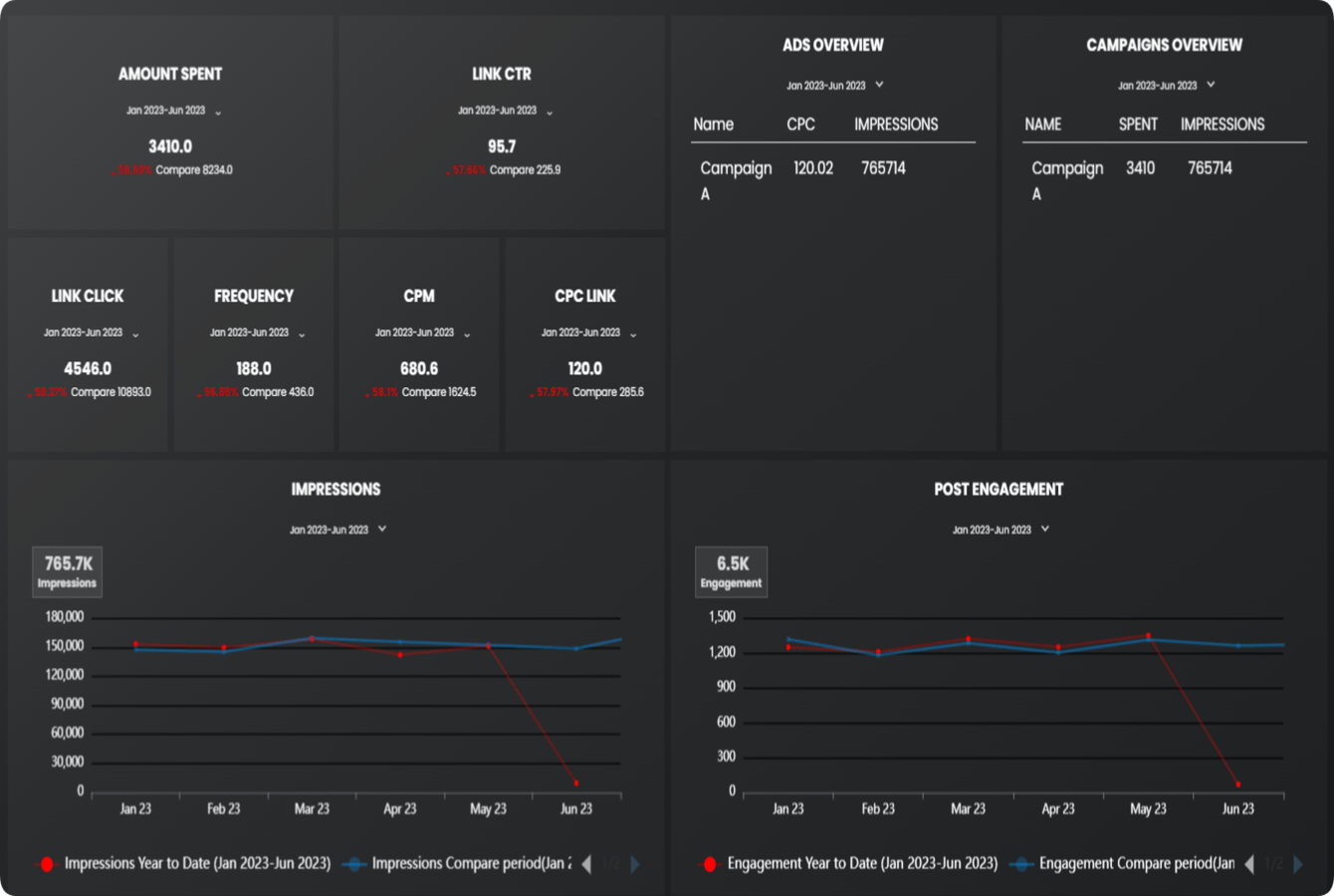 With the Facebook Ads dashboard template check the engagement of your ad campaigns, money spent, click activity and so much more.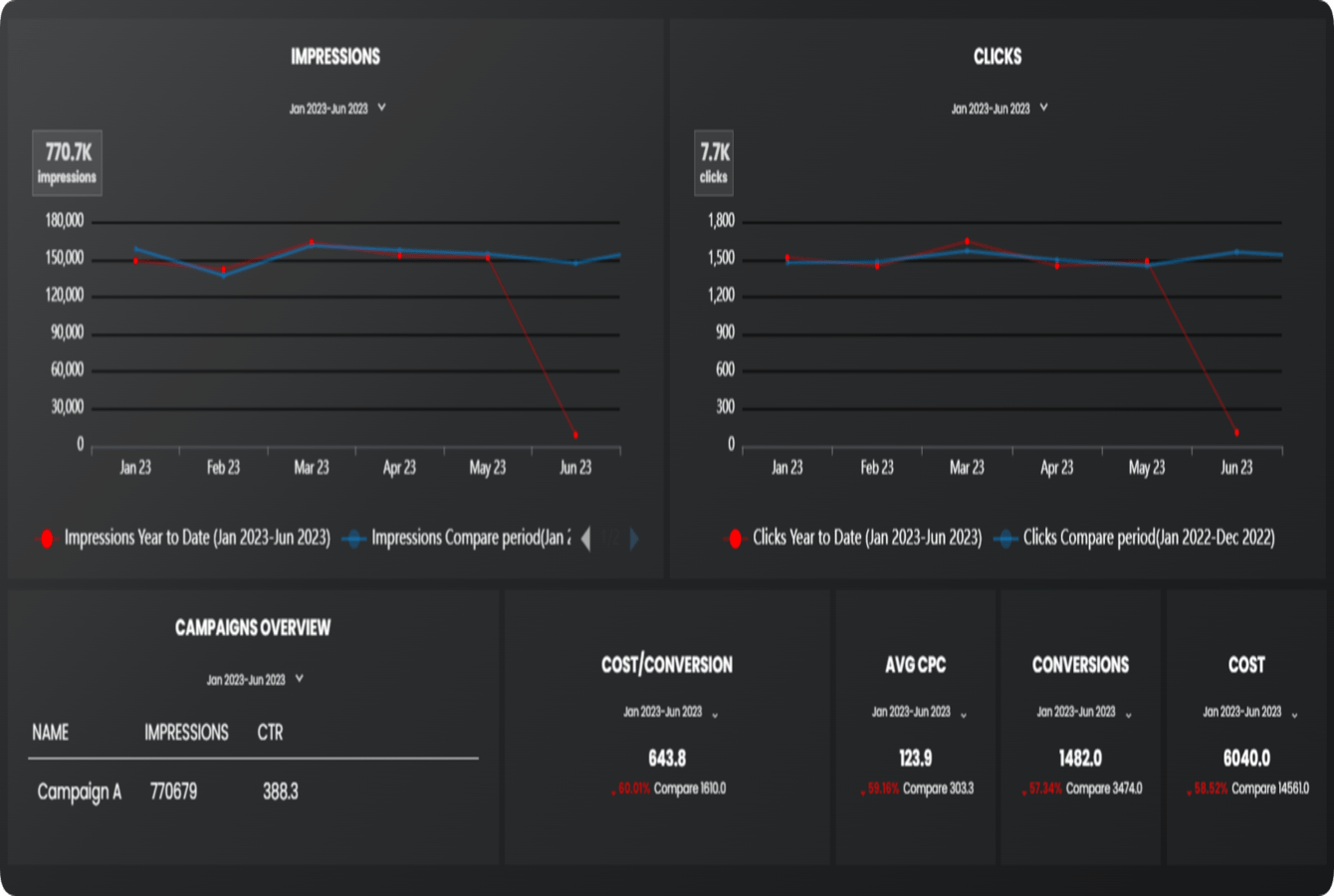 Track the Google ad campaigns and important metrics like cost per conversion, impressions, conversion rate, etc. with a customizable, efficient and simple Google ads dashboard template. Enhance your campaign performance by analyzing the data.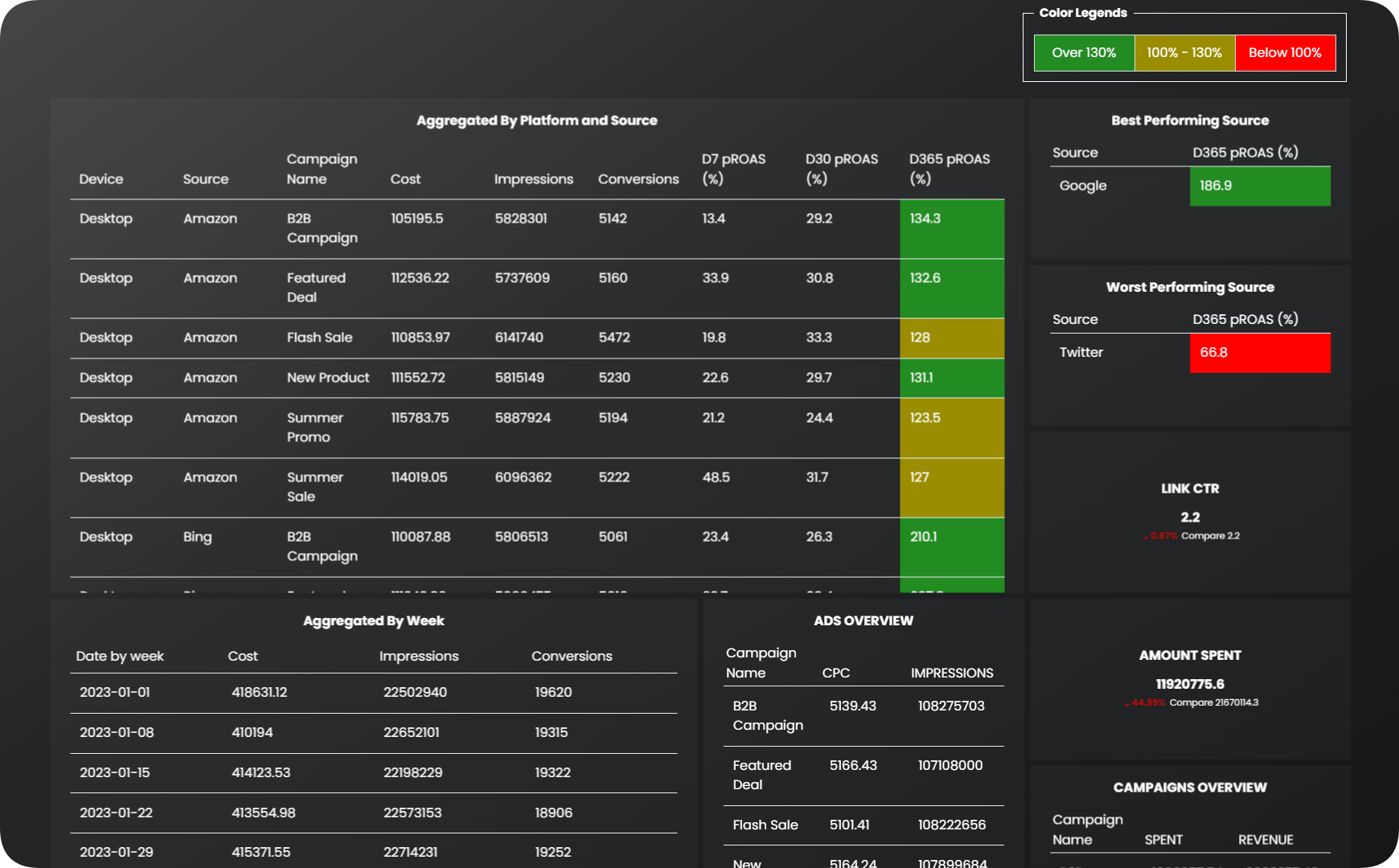 Optimize Campaign Success with Predictive ROAS , Your All-in-One Marketing Campaign Management Dashboard